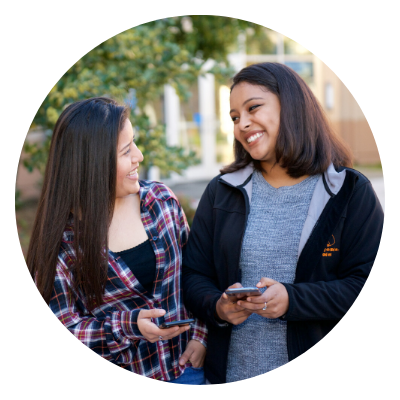 12/09/2019          
"So thoughtful, patient, and knowledgeable! I was so pleasantly surprised. Keep it up!"
---
10/17/2019          
"Thank you for your excellent service and staff!"
---
10/01/2019          
"Wonderful experience, very helpful team. I was 100 percent satisfied by the service."
---
09/03/2019          
"Great communication and very helpful with everything."
---
09/04/2019           
"My coach was pretty cool and relatable, so it made me feel like I could open up to her. She showed me different places that are important and I manage to learn where some places are."
---
08/27/2019          
The person who helped me was very helpful with explaining the entire process of obtaining the wireless wifi. Not only was she friendly, but she also took the time to answer any of my questions. Thank you. :)
---
08/19/2019          
"Loved having this assistance. Esp, the person who walked me over to the registrar area. Very helpful, tx!"
---
08/14/2019          
"Very helpful. Got me off to a great start for my first year."
---
07/31/2019          
"Yes, the group helped me with my challenges. The welcome and connect center also provided me with a boost of confidence and just the right amount of encouragement that a new student needs to be directed in their new environment. Overall, thank you for providing a team that takes the time to understand and listen. Awesome job!"
---
07/03/2019          
"Made it possible to return to school after 25 yrs!!"
---
07/03/2019          
"As a returning student, I was made to feel comfortable and everything was explained clearly. I left feeling respected and encouraged by someone 30 years younger than me. Great job everyone!"